Hi again.. alot of kids call me Mrs. T or Miss Chris, if  you want to write to me and ask questions about the books and music.
Tuesday, I'm driving my camper…(looking for a  name for it, any ideas out there?) to NYC… the BIG APPLE!  Coach is flying up to get ready for NY Rangers training camp. I'm driving up Ema and Bear, our two big dogs.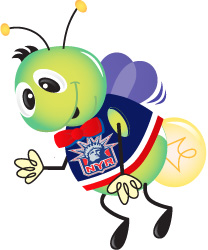 Little Bolt is the bug in "Hey Coach" *(he interrupts me a lot)  and he is going to NYC to meet the Statue of Liberty and to visit the Garden of Dreams…. We may have to give him a better name… and a brand new Jersey… THE RANGERS JERSEY!!!! Ideas??
Help me think of a name for him… soon you'll  hear his new song…
"I've ALWAYS Been Green!"
I'm getting ready to sell books and music soon, as every book that sells, buys a book to be donated to a child who has the "need to read" also!  So when you purchase one for yourself, you are purchasing one for someone else. You become a part of the circle of giving!! And that feels great!
In September, the "Do Bugs Have Belly Buttons" CD book will be out to kick off this website…. There will be samples of the music and pictures as we get ready.   Ben and the Bug have a story/book song for you….
Follow along to NYC….and come see what the "Enlightening Bug" learns about the Statue of Liberty…
" Hi ! I'm so high up here,  I feel like I'm looking down from HEAVEN!  Hey  Tall Lady! Are you wasting electricity with that light burning 24/7?"…"My work is important, Bug. This light must shine all the time…"
"Hey kids, sing along with me…!"
"This little light of mine…I'm going to let it shine…hmmm, I feel like I've heard that before…I LIKE that idea…going to sing it some more!!! This little light of mine…I'm going let it shine….ohhh…this little light of mine…I'm going to let it shine… Hey Kids! Sing along with me!!!!"
See you soon!