Even though our upcoming book,
Stubby & Rusty
, is about a pelican, I am working on drawing a pod of dolphins for the book. It has taken me a least two weeks to get the shape of their bodies just right. (Pictured to the right is one of my earlier drafts) When I draw animals, I like to look at real photographs of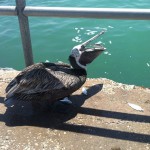 that animal to help me visualize and see the detail of the eyes, body shape, and colors.
I also hope to start drawing some other sea mammals such as sea turtles. Dolphins and sea turtles are both my favorite marine animals, and they are affected by how we take care of our environment. It is important to keep their home (the ocean) clean and pollutant-free so they can live a happy and healthy life.
— Brittany